I have been reading and writing quite a bit this week. Trying to get my head around some things, not sleeping very well but everything is good. I had the boys and a few of their friends for supper on Tuesday night, I met up with a friend I have not seen for ages last night (and got home very late) - a great evening. Then tonight it is catch up time again with two more friends I have not seen for months (and pizza and wine). In between I have been tweaking my posting for today. This posting is a pretty brave step for me and I think it is time to extend myself a bit. I am busy signing up for a writer's course and have been looking at the competitions they run. These writing sites offer so much help and inspiration. Take a look at these two quotes:-
If you are having trouble getting started, look out the window. The whole world is a story, and every moment is a miracle
-Bruce Taylor, UWEC Professor of Creative Writing
I like that, it is my kind of vibe. I have been encouraged and amazed that my friends, family and Facebook mates (I even have a few "strangers" giving me encouragement) actually enjoy reading the day to day stuff I spew out. This has given me confidence to start pen to paper (fingers to keyboard) and write the stories that are in my head.
Now please read this quote:-
"It is important to understand the basic elements of fiction writing before you consider how to put everything together. This process is comparable to producing something delectable in the kitchen–any ingredient that you put into your bowl of dough impacts your finished loaf of bread. To create a perfect loaf, you must balance ingredients baked for the correct amount of time and enhanced with the right polishing glaze." -Laurel Yourke
I know my children will love it because it is just the advice that should put me off writing. I cannot bake - baking is a difficult exercise for me because I do not measure ingredients or follow the recipe. Even when I have all the correct ingredients, the scale, the cups and everything laid out on the counter, baking is something I cannot get my head around. I cannot resist adding something different, perhaps a little more butter, and extra egg or maybe some chopped chocolate as well as cocoa. Cooking food is fine and I am not a bad cook. My boys however, can never understand why my spagbol is never the same. This to me is what makes life interesting - a bit like Forest's box of chocolates. How boring to know exactly what your spaghetti is going to taste like, every time you make it.
So now, my faithful little guinea pigs, here is the first chapter of a story I have had in my head this week and have now put down on paper. I don't really know where it is going, the ingredients are on the table and are going in the bowl in the wrong order, the tenses are probably jumbled but I would love you to read it. Best you pour yourself of cup of tea or, if after 12.30, a glass of wine!!!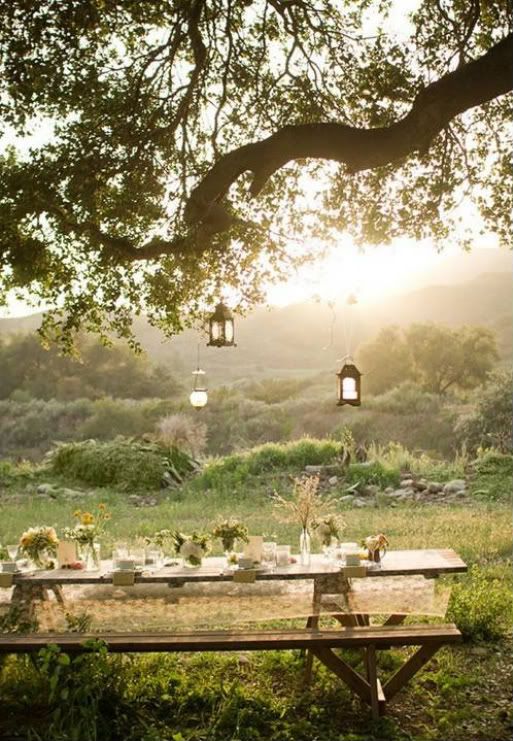 It was Saturday. Sally slowly stirred her cup of tea while looking out of her kitchen window. She was up very early for a Saturday. The weather was perfect, the sky clear and blue and there did not seem to be a breath of wind (a bonus for Cape Town in January). As she sipped her tea she thought of Simon and his wedding which was happening later this morning. Maddie would be a beautiful bride and she was genuinely happy for them. She was slightly disappointed at not being invited but she understood. Her friendship with Lizzie made things complicated.
She also had other things to attend to. A dinner party tonight. Thank goodness the weather was good. Last night, in the dark, she had moved her wooden table to the bottom of her garden, under the oak tree and she had hung her hurricane candle holders off the lower branches. She would set the table later, after she returned from the local Saturday morning market.
Sally showered and dressed quickly. She wanted to miss the crowds and the heat of the day. As she travelled the 20 minute drive to the market, she took time to appreciate the beauty of the early morning, the freshness of the air and the beauty of Cape Town and it's glorious mountain. Once she arrived at the market, she moved quickly around the many stalls. She had her list and knew where to find everything. Fancy sour dough breads, a variety of different cheeses from the Dutch cheese stand, her favourite black pitted olives and two large (free range) stuffed chickens. She was always shocked at how much money you could spend in a short period of time at these types of markets (add an almond croissant, a cup of coffee, some green fig preserve and a chili sauce or two) and there was not much left in her purse.
In an hour she was done and headed home to start her preparations for the evening. Why didn't she do this more often? She was so looking forward to the evening and getting everyone together again. It was going to be a "no-fuss" meal. She would place everything on platters and boards and everyone would help themselves. Alfresco (she liked that word, it reminded her of her time spent in Europe, too many years ago, when you feasted on crispy breads and runny cheeses on the sides of river banks (or often on a bus or train)). Sally unpacked her provisions and began fussing around her kitchen.
Peta was bringing her signature Lemon

Roulade

- the most decadent mixture of meringue, lemon curd, cream and fresh berries. The chickens (with their stuffed pine nut and apricot stuffing) were ready to be popped into the oven, but that could happen later. She was going to serve them at room temperature anyway, so it did not matter when they were cooked.
Sally was nervous and could not quite work out why. Was it perhaps the different mix of friends she was having over to dinner this evening? Her guest list was pretty uncomplicated, she was comfortable with everyone, so why this uneasiness?
Nine good friends of hers (in no particular order);-
Lizzie - her best friend from school days who she spoke to every day (also 34 years old, once engaged and never married but always with a line of eligible men in the wings);
Sandy - her new neighbour and friend. She had only known Sandy for about two months since she moved in next door sometime in November. They clicked immediately (they shared a love of tea, gardening and cold

sauvignon

blanc). They popped in and out of each other's lives almost on a daily basis (Sandy was turning 40 soon, a divorced single mom, with 18 year old James, a sullen teenager);
Tim - her beloved twin brother and only sibling (who had been involved with Lizzie for a couple of months, a long time ago). Tim was now seeing Cassie (a real head case), a dancer who was in Europe on a 6 week exchange programme (thank goodness). She was hard work and over the last couple of weeks it had been great having Tim around (without her) to help Sally move their parents into a retirement village, not far from where they both lived;
Graham and Sue - Graham was her cousin (and best male friend, a big brother of sorts) and his wife, Sue who everyone loved (even although she was only 25 (to his 45) and pretty flighty for a rather serious Graham);
Paul and Peta – old friends (both 34 years old, classmates and childhood sweethearts). They had been married for 8 years and were expecting their first child in two months time;
Seamus – Tim's friend from university, tall, broad, dirty-blonde-haired and unbelievably handsome (and sexy). He was only in Cape Town for the night. He had been in

Hermanus

for the weekend for his mother's 70th birthday party and was heading back to Johannesburg in the morning.
One of the reasons for the dinner was to hear all about Simon's wedding from Paul and Peta. They were the only couple in their group invited to the wedding (which was strange, but not really). Simon was previously engaged to Lizzie (who was later involved with Tim). Even the most uncomplicated people could lead complicated lives.
Simon had met and started an affair with Maddie only months after he and Lizzie had got engaged and moved into their loft apartment together. It was a difficult time for them all and Sally could see why Lizzie and Tim found comfort in each other. Lizzie was easy to fall in love with, you could not help it - men loved her, woman loved her (dogs too). She was beautiful and clever and funny. It was good to be in her company, she sparkled and bubbled and created an energy around her. She could be outrageous and daring (actually everything Sally was not) and she was one of those girls who could get away with pretty much anything. At times she could be vulnerable and insecure but Sally knew her well and knew how to handle her "moods". Lizzie had been in two long term relationships, one with Simon for about 5 years and then with Malcolm (but that is a long story). Her relationship with Tim only lasted a couple of months and was a process of healing for both of them, it taught them both how to be gentle with themselves and how to learn to trust again. They were mature enough to realise that friendship is one thing, loving your friend another and sometimes, unfortunately, both together is just not meant to be. They both walked away from the relationship happier, stronger and thankfully, still friends. For this, Sally was eternally grateful as the months that they were together were incredibly hard for her. It was a time in her life she felt isolated from her best friend and her twin brother. They were so absorbed in each other that she was completely ignored and Sally did not cope well without Lizzie. Lizzie gave her confidence in herself and when they were together Sally felt happy, she was happy and she was also happy to slip into the background and let Lizzie shine.
During the time that Lizzie and Tim were together, Sally connected with her cousin Graham again. Not that they had ever lost contact, the families saw each other all the time and their parents were often together, but she now had more time on her own and was able to accept invitations that, in the past, she would not have been able to. She was happy to be involved in helping with their wedding plans. Sue's parents were from the Natal Midlands and Sally was happy to help with the organising. Her job in PR at one of Cape Town's top hotels meant that she had many contacts and connections and Sue was only too happy to hand over and receive help and direction from Sally. It was a very busy time but, nevertheless a fun time. The wedding was a wonderful occasion. Sally was seriously thinking about resigning from her job, living off her savings for a bit, while trying to start a "wedding planning" business.
Paul and Peta were well, just, "Paul and Peta". The good looking, golden and happy couple who met at school, dated, who never argue or fight, who got married, bought an amazing house, have great jobs, enjoy exotic holidays in unusual places and, the cherry on the top for them, now have a baby on the way. Sally had been friends with Peta from when they were both five years old and in the same Sunday school class, they remained in the same school class right through until they finished school. Tim and Paul had played first league cricket together (and still do, but in a more friendly way now). It was a funny thing but Sally only really saw Peta these days when she was with Paul. For some reason Lizzie and Peta had never been great friends. Friendly and polite enough but Lizzie found Peta's "sweetness" and "perfectness" too much to handle.
Seamus - Sally has always (the 13 years that she has known him) had a crush on Seamus (she was kind of over him now) and he was now just Tim's handsome (sexy) friend. Seamus would always be around at Christmas time in

Hermanus

(often with the latest girlfriend in his life, but sometimes not). She never met the same girlfriend on two consecutive holidays. Tim and Sally always went with their parents to

Hermanus

for Christmas (Graham's parents had a holiday home there). Seamus treated her like she was Tim's sister (and she was). There had been exciting under currents at times, eye locks that lasted that little bit longer than normal but Sally always told herself to stop being "silly" (she was far too ordinary for Seamus). For some reason he was the one secret that she kept from Lizzie and she did not know why. They shared everything. Lizzie was always pretty critical of Sally's choice in men and for some reason Sally did not want her to know about her "silliness" as far as Seamus was concerned. Their friendship was strange like that.
However, since Sandy moved next door Sally had found a soul mate. A friend she could really talk to. Sandy was so wise and a great listener. She never said anything nasty about anyone and always saw the positives in any situation. She had not had an easy life, she worked hard to be the best mother she could be and to give James the best education she could afford. Her ex-husband, Michael was living in New Zealand with his new family. James was overseas visiting them at the moment and Sandy had told her that she always had a hard time with James when he returned from spending time away with his dad. Michael was a good father and Sandy had nothing bad to say except to say that "they got married too young, thought they would be happy, ever after but it did not work out that way". She was very "matter of fact" about it and very unemotional. Sally could also speak freely to Sandy about her string of short relationships that never seemed to develop into anything deeper and so often she never knew why.
Sally was thinking about her guests and her friends (and Seamus) as she got the table looking all pretty and the way she liked it. She had not seen Seamus in December as they had not been to

Hermanus

for Christmas this year. Her holiday was spent helping her folks sell and pack up their family home in

Rondebosch. An enormous operation of going through thirty years of memories and clutter that a large four

bedroomed

home contained. It was easier to move in with her parents for the three weeks and work with them. She savoured the time that she spent with her parents going through things, talking, laughing and sharing the memories so, until now, she had not thought about

Hermanus (or Seamus)

or even missed the large gathering of her cousins and their families at Christmas.
The chickens were done and cooling, the table was set and she had time to finish reading the last couple of chapters of her book, take a leisurely bath and then get ready for the arrival of her guests at seven. She knew from the moment that Seamus accepted her invitation what she was going to wear, so no worries there. Now it was just a matter of relaxing and getting ready. She was now sure that the uneasy feeling in her stomach was just pure excitement.