Not really but pretty damn close. Towards the end of September, 85-year-old
Cayetana Fitz-James Stuart
, the Duchess of Alba who has more titles than anyone else in the world, will marry Alfonso
Diez
, making the public relations consultant and commoner the Duke of Alba. She is a direct descendant of King James VII of Scotland and is related to Winston and Diana.
A selection of the Duchess' titles
18th Duchess of Alba
de
Tormes
11th Duchess of
Liria
and
Jerica
14th Countess-Duchess of
Olivares
Countess of
Lerin
and
Condestablesa
of
Navarra
Countess of Miranda
del
Castañar
Countess of
Palma
del
Rio
12th Marchioness of la
Algaba
14th Marchioness of
Barcarrota
19th Marchioness of
Coria
11th Countess of
Tinmouth
Viscountess of la
Calzada
11th Baroness of
Bosworth
Viscountess of la
Calzada
Her first wedding in 1947 was a more fancy affair than the wedding of Elizabeth and Philip and was supposedly the most expensive wedding in history and overshadowed the Queen's wedding.
Wedding in 1947 (21 years old)
I saw the article below on the
Huffington Post
yesterday. As I am such a royalist and love a wedding more than most, I thought I should share:-



Duchess of Alba, Cayetana Fitz-James Stuart and Alfonso Diez to Marry
But being such a wealthy and titled woman comes with pressures and the Duchess of Alba has been a tabloid fixture in Spain for decades.
After losing her first husband Luis Martinez de Irujo in 1972, the Duchess spent time with a variety of eligible male matadors and flamenco dancers and eventually tied the knot with the much-younger Jesus Aguirre, an ex-priest. At the time,
the marriage was "the marriage that astounded Spain." Now Cayetana has made headlines yet again for a third marriage, this time to Diez. The 61-year-old civil servant is 25 years younger than his well-heeled fiance.
Beyond the couple's age gap, the controversy over their proposed union centers on Cayetana's children's disapproval. The Duchess' son Cayetano Martinez de Irujo, the Duke of Salvatierra, expressed displeasure at having only met Diez three times, especially because he will become the Duke of Alba. The Duchess told Hello magazine, "The tough part was that my children didn't understand and they got quite angry with me."
But the magazine reports
that to allay her family's fear, she spent the summer dividing up her wealth, including palaces and artwork by masters like Goya and Velazquez, between her six children. By giving up her wealth in advance, she seems to have her children's support in time for her nuptials, planned for late September or early October.
Check out a pic of the Duchess of Alba and her lucky man below.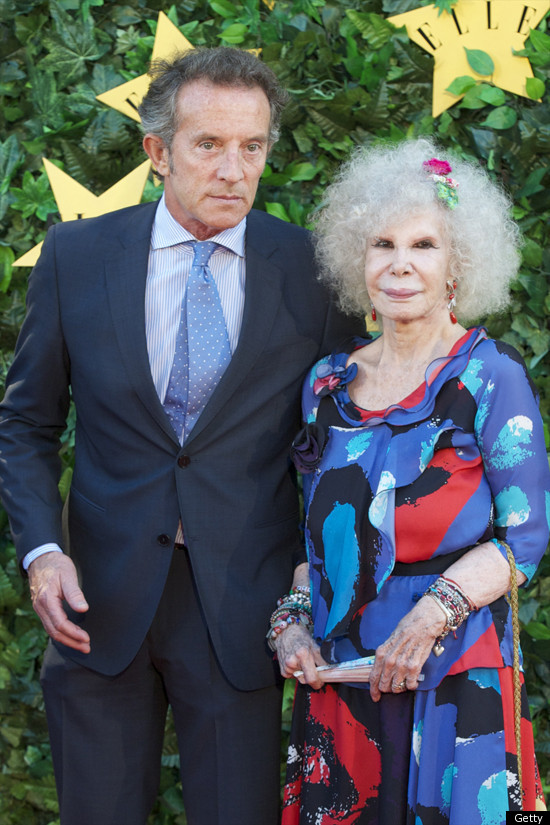 (Should we tell her about Storm in a D cup)
Civvies Day
Red carpet day (he looks so proud)
(no funds for lipstick or wisely advised that lipstick would just
(amazing what a make-up artist and airbrushing can do)
She moves in high circles - nice "stiff upper lip"
(don't take any tips Camilla - you are doing just fine)
Do you think Tom is on a soap box? If so, she must be very tiny. Not often he
dwarfs someone
So please keep your eyes open and let me know if there are any further announcements and whether there will be any television coverage. I have a diplomatic contact in Spain so I am trying to pull a few strings (promise, it is not a lie). I have always wanted to go to the tomato festival in Bunol in August (somewhere close to Valencia) called
Latomatina
(another promise). 40,000 people having a food fight - it must be awesome (if you love tomatoes). Perhaps an extended trip to include the wedding or alternatively a wedding party at St Denis Road. No danger of anyone upstaging the bride!!! Watch this space.
Imagine those tomatoes squishing through your fingers and toes