I am not a golfer but I am married to one and once a year I go on a golfing weekend to Hermanus. This is a fun weekend where the ladies are left to their own devices to shop and lunch and drink wine while the men get up at an ungodly hour and hit a ball around a golf course for most of the day (and the following day). We dress up and join them in the evening for the prize-giving (forever hopeful that they may win one of the many fancy prize). It is a great weekend away.
This weekend I stayed home and went on my own golf tour. From Saturday morning, when I caught up on what had happened on Friday night while we were out, through to Saturday afternoon when I watched non-stop from the start. Michael went off to play golf and I did not move far from the television the entire day. I watched small bits of the rugby during the advert breaks but I was glued to the Ryder Cup.
Yesterday we watched non-stop from 5 in the evening to 1.30 this morning when the celebrations were finally over. What an amazing sporting event.
Phil Mickelson is renowned to be my favourite golfer but I will always support the English and hence the Europeans. Being a Phil fan it was really difficult for me shout for Justin Rose (not my favourite Englishman). But who could not applaud Justin Rose's final two putts of the match? Absolutely brilliant.
Then Ian Poulter - watching him getting pumped up and inspiring his team was Ryder Cup magic.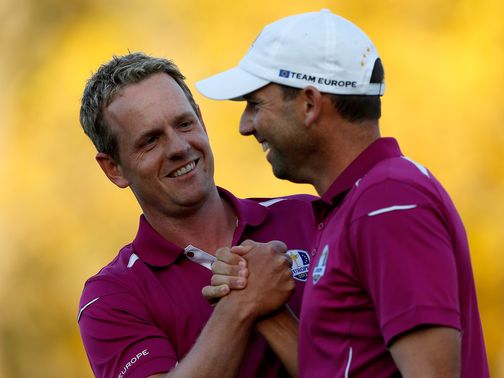 Luke Donald, definitely the "eye candy" of the European team was my favourite and Sergio must be my bestest Spaniard (Nadal a close second) - his enthusiasm was contagious and watching him and Jose Maria biting their nails and hiding in their hats was nerve wracking.
Martin Kaymer, split seconds before he launched his 6'1 hulking body
and legs around
Sergio's waist
The way the Europeans managed to win from being 10-6 down at the start really warrants the title of what will now always be known as the "Miracle at Medinah". It was a privilege to be a part of it right to the happy end. The shock and silence of the noisy (and often rude Chicago crowd), the rising sounds of Ole Ole Ole Ole, the Union Jack clad clowns who suddenly appeared out of the woodwork, together with the sight of magnums of perfectly chilled Moet champagne being sprayed and wasted on the crowds by the players are special memories. Jose Maria Olazabal breaking down when mentioning Seve Ballesteros left me staring straight at the television not wanting to look at Michael who, out of the corner of my eye, I could see had tears running down his eyes (golf and Seve do that to him).
Not since watching Bjorn Borg defeat John McEnroe in the 1980 Wimbledon final have I been so involved in every aspect of a sporting match. The 1995 World Cup rugby final and England winning the Ashes in 2009 must also feature but are lower down on my list. Your favourite sporting moment?
So now I know what it feels like to go on a golf tour. After all the excitement, the late nights and the armchair travel, I am physically and mentally exhausted.