My mother recently cleared out her
kist
which is still at
Dalene's
house - quite a treasure trove of memories.
Out of it came her wedding dress (the first one to my father "who art in heaven") which we promptly made Amy try on. It fits the skinny whippet like a glove and the dress is very similar to what Kate's wedding dress looked like. Slightly yellow but it has a lovely antique look to it. Amy is determined to wear it when she marries her prince but I think we are going to have to wrap her tightly in bandages and put books on her head so that she does not grow up or sideways. She grows taller by the day and definitely has inherited "taller" genes from her two (not so fairy) godmothers!!
preserved since 15 February 1951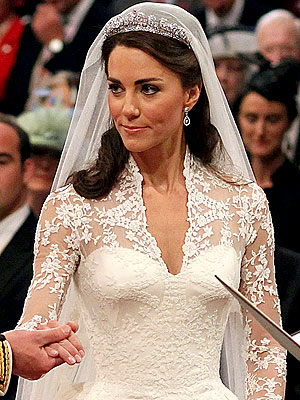 (I actually prefer the neckline on mother's dress)
The lace work is incredible and it is amazing how some things never go out of fashion. We are getting into wedding mode at the moment. It is my brother's wedding in less than two weeks. 11.11.11 (how cool but not at 11). David has been back in Cape Town for about 3 weeks and Lucie arrived this weekend, so it is becoming very real and exciting. International guests start arriving from next weekend - busy times. Everyone seems to have an outfit (except me) and I was hoping that some amazing creation would be in the kist for me (even some of my grandmother's jewels at this stage will do). There was a mantilla. When did people ever wear them?
I am obviously not up with the latest fashion
(mmmm.....maybe I could find a place for it together with my outfit?)
There were 2 hand knitted bed jackets and even a crocheted poncho!! We were having a ball.
My mother was not looking for wedding dresses or heirlooms or mantillas but was looking for her old photographs. A great big wooden box full of them. This lead to Dalene and I sitting laughing and reminiscing long after mother had left with her chosen few pictures for her scrap booking class.
Amongst the many memories were pictures of our Christmas's spent at Franschoek when the boys were still at junior school. The last year we spent there was when Amy was a year old, so that is nearly 14 years ago. My mom and Dick had bought timeshare at the Swiss Farm Excelsior and our week was the Christmas week. We must have spent 4 or 5 years in a row there and it holds very special memories. (That is until that charming, famous, very blonde SA cricketer (fast bowler whose name begins with a "G") and his development company went into liquidation and Swiss Farm closed down). Sometimes it is difficult to forgive (or forget).
It was the place where Dick (and Tom) developed their love of bowls and where the tradition of our Christmas "fun game" was born. We used to put a time limit on our shopping trip into town. We were only allowed to spend R25 (it went pretty far in those days) and it turned into our own Amazing Race.
Biltong
, wine, tea pots (from Pep Stores), t-shirts, coffee mugs and so many other weird and wonderful presents. We play with a dice, you choose a present when you throw a 6, then once everyone has opened their presents you steal the present you want from someone else (after throwing a 6). A time limit is set and there is always one favourite gift that the family will fight over and will end up changing hands many times (unlike the teapot from Pep Stores (which I got stuck with and now love dearly)).
No-one in our family, will ever dare argue about the fact that the best gift ever bought for our Christmas eve game was "the Hairy Man". Bought by Dickles at Cardies in Franschoek for R19.99. I have just searched Matthew's room for the original one - he presently has "ownership" and it is probably in his room in Kimberley. I wanted to take a picture to show you. This is the closest I could find on the internet:-

Our "Hairy Man" is furry and fluffy (and blondish) and not quite as "in your face" as the one above (but you get the idea). You lift the bearded flap and underneath the fluffy beard you would find the "Hairy Man's" little felt balls (quite sweet really). The boys were fascinated and there were tears at the end of the game because everyone wanted him. He has never been used as a key-ring and for many Christmas's after Dick had died he used to find his way back into the game (and still cause a fight and tears). It sounds like a dreadful game with tears and fights but it really is lots of fun.
On thinking about those special times at
Franschoek
we think of all the games and contests that were held. Besides the daily mountain walks, bicycle rides (and men and boys sometimes ducking out to play golf) there was a sun downer bowling challenge every day, the "break the record at beach bats" competition, cricket matches in the long driveway, lunches at La Petite
Ferme

, swimming races in their wonderful swimming pool, snooker and

foosball

in the games room, long drawn out

braai's

every night and always

Jenga

on the dining room table.
I took the box of
Jenga
out the other day. It is such a simple game of 54 perfect beechwood rectangular blocks.
From Wikipedia
"Jenga is a game of physical and mental skill created by Leslie Scott, and currently marketed by Parker Brothers, a division of Hasbro. During the game, players take turns to remove a block from a tower and balance it on top, creating a taller and increasingly unstable structure as the game progresses. Jenga is derived from a Swahili word meaning "to build"."
It is a game that Dick spent hours teaching impatient boys to play. Dick was a patient soul and would think about each block he removed from the pile and know where the best place to reposition the block would be. In this simple game of blocks so much was learned about each persons personality and their strategy in playing the game. You could quickly spot the risk takers and it is a great game to play in teams instead of individually.
Dick worked with his hands, he knew how to build houses and fix things. He would explain to the boys that the stronger the foundation was, the less shaky the structure would be and it was easy to pull out the wooden pieces without much care. When the foundation pieces were barely there to support the structure, it was difficult to pull out a piece from any part of the structure and required a great effort, time and concentration to pull it out.
Quite a difficult task when all the boys wanted to do was get the tower as high as they could and then watch in delight when it smashed down in a split second, not appreciating all the time and effort that it had taken to get it to that point.
Now as I sit typing this post, I am thinking of my stepfather and the lessons he taught me, many of which I did not fully appreciate at the time. I have never been one to dwell on the past or have regrets but I often think about time travel and how amazing it would be to be able to go back to the past, in your mind, and remember everything clearly. One of the things I would choose to do would be to go back to an evening in Franschoek, playing Jenga with Dick, and I would listen more closely to all the philosophies he had about life and the importance of strong foundations, debating what the 3 blocks at the base would be. Love, trust and respect got the general vote (there were a couple of others thrown into the pot). How true that a relationship could maybe stand (and sway a bit) with one of those foundation blocks missing, remove 2 and it is more unstable (it can balance on one block in the middle - but not for long) and as soon as the 3rd block is bumped the whole lot comes crashing down.
I don't think we have played Jenga since Dick died. I know it has been taken to Plettenberg Bay on our holidays but I don't remember anyone playing it. Maybe it is time.