I had a jolly fine day yesterday. Actually the day was kind of normal but with lots of calls at office, emails and the bestest cheesecake ever from
Tribeca in Bergvliet
- half for the staff at the office and the other half taken home for dessert. Now, bear with me. I still don't have a camera and I am struggling to paint the correct picture of my birthday without photographs, so Pinterest came to the rescue (again).
This is my favourite kind of cheesecake - the kind I still dream of from Juniors at Grand Central Station. No fancy toppings, just the cheesecake. TriBeCa* was discovered in the heart of the suburb of Bergvliet (don't let Alan Committee hear this) by Dave and Lucie. Lucie had a chocolate topped one for her birthday and I thought I was ordering the same. The two of them often have leisurely breakfasts here (the old spot where Sherwood Pharmacy used to be).
*Tribeca (sometimes stylized as TriBeCa) is a neighborhood in Lower Manhattan, New York. Its name is an acronym based on the words "Triangle below Canal Street": the triangle is properly bounded by Canal Street, West Street, Broadway, and Vesey Street. The neighborhood is home to the Tribeca Film Festival. (Thanks Wikipedia - and don't ever say I don't teach you anything!!)
When I collected mine birthday cake yesterday it was covered in that berry jelly (coulis). I felt a little bit sad (even although I love berries) but once the cake was cut, served and sampled, I felt a whole lot better. It was delicious.
The topping was like this one but the cheesecake was triple the height and the crust was a lovely flakey(ish) shortcrust pastry (contradiction, I know but that is what it was like - not flakey, not shortcrust but flakey shortcrust) and not a biscuit one like the picture above.
Go there and try the cheesecake - It is pretty awesome, berries and all but if you are ordering a whole one be sure to ask for the chocolate topping (I think it was slightly better) or ask for no topping - that is what I will do next time and perhaps they will take off a couple of bob as well (maybe not). Confusing, sorry but what should not be confusing is that it is great cheesecake.
So my day at the office was fun. I even managed to adopt a new daughter on the day - not a baby, if you are worried. (This is no joke but will need a full post on it's own). There is always something happening at 18 Brooke Street and this story also needs to be told (in a couple of days). But back to the birthday.
So to re-cap - I got a huge berried cheesecake and a new daughter. We always buy presents for each other at the office (the girls anyway) - only 5 girls and I got some lovely spoils - Goji Berry and Rose hand cream set, a colourful chip and dip platter (which I used last night), a garden gnome and quaint bird feeder, a beautiful ceramic bird and a beautiful white birdcage which you hang from the ceiling or tree with a plant inside (not for the ceramic bird - from 2 different friends).
I may use it as a centrepiece on my table but perhaps it should be hung in a corner from my ceiling. I can also use it for my next wedding decor job (if it is not hanging from the ceiling).
I got home from work and put the tables on the lawn (with help from my new daughter). It was a stunning evening, with no wind so I could even light candles. People popped in and out, some ate some didn't. One friend even arrived on a bicycle with home baked meringues in a Shell packet with "No Fracking" scribbled on it!! I opened a couple of big magnum's of champagne (still R99 at Palmyra Woolworths) and got another one for a present. A beautiful scented candle, bottles of wine, items of make-up and brushes for make-up and a bag for the make-up (all much needed since my handbag that was stolen has not been found under a bush). My mom and Rob gave me a voucher to put towards a new handbag and lovely Hayley gave me the wallet to put in the handbag (I am getting there). I also received the most beautiful bouquet (cannot call it a bunch) of roses:-
These colours but with yellow thrown in as well:-
So use your imagination and mix the two in your mind. Too beautiful. Neighbours popped over and stayed and one only wanted to chat over the wall. Aunty Norma arrived with a candle as she was not giving me any plants since
my poem about the plants that had been given to me by the dead
(she is taking no chances). It was a great evening with little fuss and champagne and boerie rolls don't go too badly together. And what else did I get? Quick clue:-
"I'm late / I'm late / For a very important date. / No time to say "Hello, Goodbye". / I'm late, I'm late, I'm late.
Oh my furry ears and whiskers, look how late it's getting!"
Yes, I got a White Rabbit.
No, not Alice's rabbit - but a white rabbit. Not quite like this one but it is a statue.
Not like this one either. The face is similar but my white rabbit has upright ears.
OK, his ears are upright but my one is white and sitting on his back legs with his front paws off the ground. Try using your imagination again and put these ears (make them white in your mind first) on the backward eared rabbit. We will get there, eventually.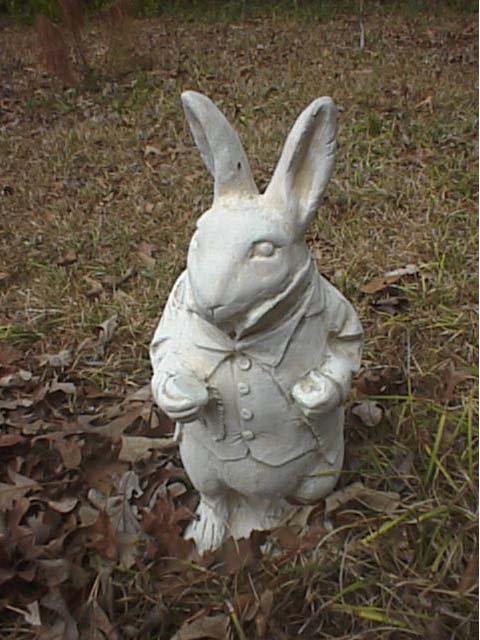 OMW - he is not like this either. Mine is real rabbit and does not wear clothes. Silly.
I love him to bits. Kelly was googling good names for an upright-eared, white rabbit last night and the best she could come up with was Phonic (from Sonic the Hedgehog) or Bugsy. Kelly, he needs a proper name. I thought at first that he looked regal and like a "Charles" but looking more closely at him on my table this morning he has a distinct look of a "Benjamin".
Now if I had a camera you would have been blessed with real live pictures of my birthday party. Sometimes, using your imagination is fun.
Jenny eating cake. Don't be silly. The diamond is just a little too large.
And Jenny is blonde
And it was cheesecake.
Hopefully it won't be too much longer until I get my camera replaced.