Well once again it was fairly late to bed to be followed by a night of tossing and turning and, for some reason, going through the New York alphabet in my head. Yesterday I should have written things down first instead of rushing it but you are getting to know me better and my if jumbled thoughts and ramblings have not put you off already, I don't suppose they will do so now.
K is a bit difficult and I cannot be a fraud. Chris told us to go and have a pastrami at Katz Deli on Houston Street in Manhattan and we never got there. The kosher deli was made famous by the scene in "Where Harry met Sally" where Meg Ryan had her famous "I want one of those" orgasms. Not that I have a thing about Meg Ryan but Michael had been pretty bummed that he did not find her on the top of the Empire State Building waiting for him and being the possessive new wife that I was, I did not fancy any competition and heaven help me if they seated me on the very same chair!! Under C I forgot about cheesecake - we sampled a couple of perfect slices, plain baked ones, pecan toffee topped ones, dark and white chocolate marbled ones. I voted the one at Juniors at Grand Central Station the best. The most creamy and decadent slice of cheesecake you could ever sample. I still dream about it. The waitress told me that Philadelphia cream cheese is the secret!!
Great foodie picture hey?
Which leads me onto G and the fact that I forgot about Grand Central Station (seriously slipping up). The light shining through the arched windows, the marble, the people who move so fast and never bump into each other - what a great building. Next time the tour must be done. Did you know there are secret rooms and tunnels and a
"whispering bar"
.
Michael looking for Meg at Grand Central (looking a tad despondent)
L is for Library. The public library next to Bryant Park on 5th Avenue (I think). Another beautiful building with incredible windows and paintings and marble and which as you walk into it you get the feeling that you have been there before but that is because you have been there before - in movies - "Regarding Henry", "Sex in the City", "Breakfast at Tiffany's" "Ghostbusters" and plenty others.
M is for Museums (sorry we did not do too much of them), Macy's (very disappointing - rails crammed tight with bargains but too difficult to find anything) but we did use (and recommend) the Megabus. New York to Washington DC return for 2 for $4.50 (the 50c was the booking fee - their adverts don't lie). About 3 and half hours each way, amazing coach, smooth drive, lovely scenery. We had 2 days and 1 night in Washington DC (post for another time)
P is for pavements, parks (and pretzels). The pavements are wide and smooth and you wish that you also had a scooter or roller skates. You see rich old ladies with purple hair walking their poodles with rhinestone studded collars (promise) and young people walking lots of dogs (professional dog walkers). You look out for Jack Nicholson jumping over the cracks in the pavement but you must have missed him by minutes. You look up to the top of the buildings and see rooftop gardens and realise that so many people actually live in the centre of the city. Very rich people. I loved greeting those posh "doormen" standing to attention outside the buildings.
The parks and gardens are great. The Brooklyn Botanical Gardens is a piece of paradise in middle of suburbia and Central Park (sorry C) is enormous. I loved the buskers in the parks (and subways) and at Strawberry Fields in Central Park we spent ages listening to fans playing their favourite John Lennon song, kneeling down to pray, to lay down flowers or just sit and watch the crowds passing by and eating their lunch bought at Zabar's Deli (like us).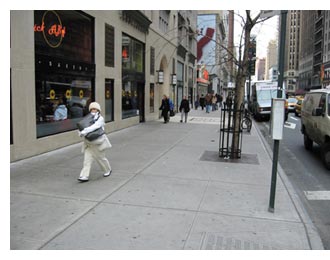 Pavement on 5th Avenue
This
"Dude"
looks after the mosaic and calls himself the "Curator"
R is for Rockefeller Centre. When we first arrived in New York the front of the Rockefeller Centre was a food court with people sitting and eating and reading in the sun. After travelling for 3 weeks and getting back to New York for the second time it had been converted into an ice skating rink. We spent one cold evening watching some of the crazy characters on the ice.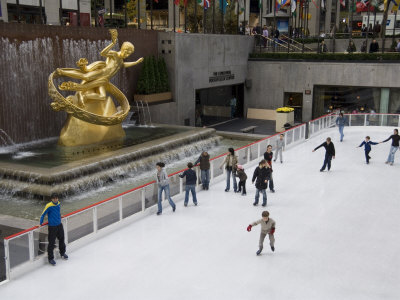 S is for subways. Pretty easy to understand - no colours, just numbers and all you have to be sure of is that you know your north from your south (thank goodness for Michael).


T is for taxi (lots of yellow taxis around but never needed to use one) and Times Square. Our bus from Washington dropped us off at Madison Square Gardens just when all the shows were starting. We took time to watch the people (again) and took lots of pictures on Times Square. Did not see David Letterman.
Every movie I now see which was filmed in New York immediately grabs my attention. Judy, my sister-in-law is a great tour guide and also a movie buff so she filled me in on exactly where movies like August Rush were filmed. She pointed out areas of Columbia University that are often filmed and she is correct, they keep popping up in movies and TV shows.
UVWXYZ - is the end of the alphabet. I am sure if I really tried I could get all the way to the end but on looking at my photographs I have on this computer, it is a bit complicated.
I don't mean to sound like a travel agent or pretend that I am well-travelled, I am not. Any chance I had to travel in the past was always to head to the UK or Europe (the UK to visit my brother or boys who were all there at some time, and Europe because there is so much there that I still want to see). I still love London and hopefully Michael and I will visit there together soon (like next year) to visit his sister Jennifer and Andrea and their families, to visit the lake district and throw in a visit to St Andrews (as a reward to Michael). Then on to Glasgow to say hello to the new additions to our family, the Rutherford's.
I cannot put my finger on exactly what is so special about New York. My feeling is that it feels like home because you have been transported there so often in the movies. It is big and bold and loud but it makes you feel brave and welcome.
Perhaps Andrea can find a special flight deal from Manchester to New York for a week or so? September is a good month to travel.