On the 25 September 2009 Michael and I left Cape Town on honeymoon. We had told only family and one or two friends about our wedding the day before and from OR Tambo airport, I sms'd the entire contact list on my phone to let them know that I was off to the USA and Canada for a month and that I was now Mrs Kotze. This was all in the queue to board and the messages started coming in thick and fast before I switched off and went onto sms roaming only. Caroline was under strict instructions not to let on to the Americans and Canadians what had transpired and off we flew. I had never been to the States before and I knew that I would love New York, for the rest I had no great expectations so this was an adventure. I am a real child though and the whole airport and flying experience excites me no end (even if I am only flying to Port Elizabeth I get excited). I love the taking off and the landing and don't mind the bumps at all. I love the smell of the food and the food served with all the compartments and packaging and those lovely Kiri cheeses. I love the movies and wine trolley and I do not sleep. I love walking the aisles in the dark and head for the kitchen at the back for a muffin or a chocolate and sometimes a chat with a stranger. The only time I drink Southern Comfort and ginger ale is on a flight (just the smell of that drink brings back wonderful memories). I also love my clear toiletry bag and stock up all those different wipes which refresh, clean, sanitise, brighten and tighten. I love that free toothbrush that they give you in the container and the tiny little toothpaste that you get for nothing. The socks I collect for Nic. I sometimes love the cosy blanket they give you so much (if it is the right colour) that it begins to love me back and does not want to say goodbye to me and somehow it finds it's way into my hand luggage (much to my mother and sister's horror). I love airports and watching people leave and cry and arrive and cry. I make up stories about their lives and where they are going to and who they are running from. On the flight to New York they had the movie "Little Manhattan" showing. The sweetest movie about a little boy on a scooter and Central Park and the wide pavements. It set the tone perfectly and poor Michael did not get much rest with an energy bunny next to him who kept poking him and pointing out the hot spots. I also opened cards and letters from our children and family and I cried and laughed and was just the happiest person ever. And to top it all I was going to New York.
I think that Michael's family thought that he had made a grave mistake by bringing over this new, very excitable wife. Once they guessed (it took awhile) the reason for the excitement, I was excused and the holiday began. I could go into so much more detail but I thought I would just fill you in on what I love so much about New York and why it is now my favourite city in the world. I so need to go back sometime soon. Michael's niece Janet (now my niece too) who lives in the UK is heading to the USA in a week or two and I am so excited for her. Her
blog
is good, I am sure you will love it too. Anyway she got me thinking about a posting on New York, so here is why it is just the most exciting, mind blowing and vibrant city in the whole world. Alphabetically:-
A is for Anthropology. Lovely niece and new mom Jaye introduced me to this shop near Rockefeller Centre. I made a few visits there and thank goodness we had another 6 days there at the end of our trip. Did not buy as much as I would have liked there but they had awesome stuff. I bought a plate like the one in the middle and huge tea cups for Dalene and Gareth the tea drinkers in the family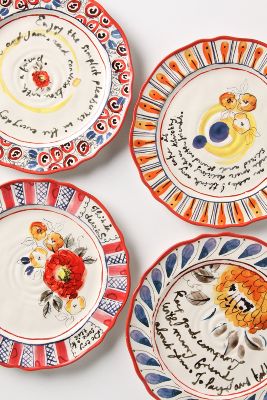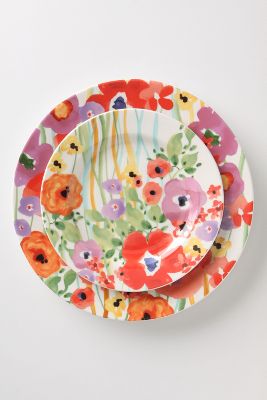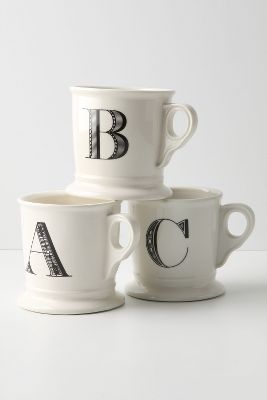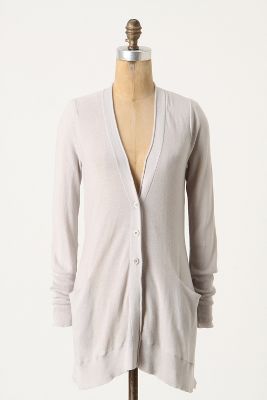 Threw in a great cardigan for myself as well, but in black. They should open a branch in Cavendish.
B is for Brooklyn (where Michael's nieces Jaye and Joanna both live a couple of blocks (big enormous blocks) from each other), brownstone homes, Brooklyn bridge, bagels:-
Rows and rows of homes like this, fancy ones next to not so fancy ones, car mechanics fixing cars and working out of their homes living next to mansions with chauffeur driven limos.
Bryant Park (a personal favourite - we kept bumping into it, next to the public library and where the New York fashion show is held (Project Runway)). Old men playing boulle, youngsters playing table tennis, chess games, grass, tables and free merry-go-round rides for the children. They show free movies there at night in summer. .
Also the most
amazing public toilets
that automatically know when you are finished and when they can flush and disinfect. If you think I am joking please do yourself a favour and
click this link
as well. "Thank you Jenny for that wonderful piece of information" - Pleasure.
Brooklyn Bridge - We walked it on our first day with the whole family and on our last night we got there for the sunset. The most special sunset ever where we saw the city gradually light up and the sun go down. Also so special because it was a fitting end to our last night in New York and our timing was perfect (not always easy to judge just how far you have to walk from a subway).
C is for Chis - the crazy husband of Jaye and father of Theo (one very cute little boy). Chris is a teacher and writer and used to work at Strand Bookstore (19 miles of books). We paid the bookstore a visit but could not do it justice in the time we had (because of an emergency). I bought some wonderful map type gift wrap, a rude fridge magnet poetry game and a couple of $1 books I thought the boys would enjoy. We went down into the basements and I suddenly had the urge to find a toilet (bathroom - the emergency). Dark, dusty and quiet places do that to me.
D is for Dunkin Donuts
Seriously over-rated. Tim Horton's - originally from Canada and now all over America was a much better option and I preferred their coffee to Starbucks as well.
E is for Empire State Building. The most wonderful art deco building, we got off a couple of stories too soon and I huffed and puffed up about 10 long flights of stairs. Getting to the top was the cherry on the top. A special place for Michael to walk around and look for Meg Ryan while I looked for a lost little boy with teddy called Howard. No luck for either of us. We were destined to be together. To see the enormity of New York from the sky is something incredible. The view that amazed me the most was of just how big Central Park is (apparently Monaco will fit into Central Park).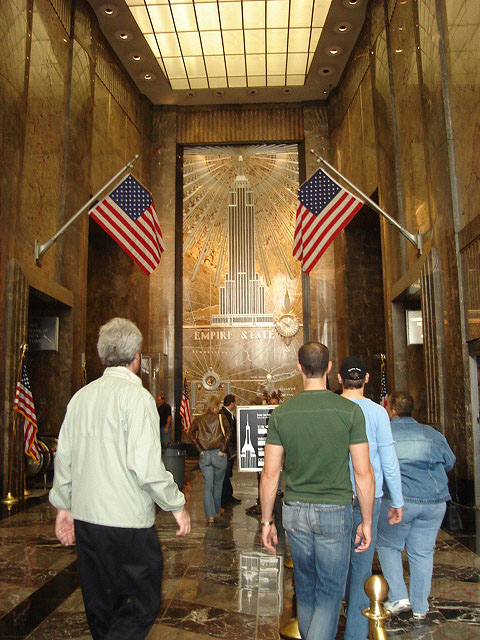 F is for THE FALL. Judy, our sister-in-law was 100% right. You see pictures and hear all about the colours of "the Fall" but to see it first hand is better than any picture.
G is for Greenwich Village. You expect to bump into someone famous on every turn. Sarah Jessica and Matthew Broderick live there, Julia Robert and Uma Thurman as well. Wonderful homes and there is a special tour which will take you to see the celebrity homes (not Michael's cup of tea so I had to compromise). On our first night Derek and Judy took us to a Thai Restaurant in the Village. We also popped into a pub to watch some baseball.  Busy and buzzing and you could just imagine Bob Dylan playing in a small bistro on the corner.
Greenwich Village
H must be for Hot Dogs. On every corner. I finally tried a chilli dog in Washington and realised what I had been missing by eating an ordinary "dog" (very much like the hot dogs we make at home). I was the only one who enjoyed the salted pretzels and they wondered why I was always so thirsty.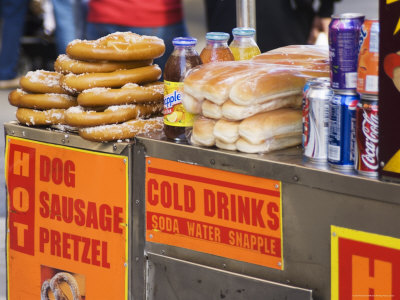 J is a doubly special one. Joanna and Jaye the Brooklyn nieces. Joanna the dancer and Jaye who consults and makes the most divine invitations and cards. We stayed with Joanna and Jon (artist husband) when we first arrived in New York and then spent the second session with Jaye, Chris and Theo before we left.
Joanna and Jaye
This is half way through the alphabet and I will finish it off tomorrow. I did not realise how long it would take to upload all the pictures, sorry Aunty Norma who has called to find out if I was alright and to politely complain about the lack of activity on my blog today. So good to have such a faithful follower. I have now missed Brothers & Sisters but this series is irritating me "big time". The whole bunch of them (except the french man) and in particular Sally Field. Their use of cellphones and telephones in every episode leaves much to be desired and I am confused and perhaps jealous that they can hold calls, have conference calls, interrupt calls and all talk at the same time (and what have they done to all the grandchildren).