Perhaps it is because I have not driven the route on my own too often (in fact only once before when I drove to watch Matthew play cricket in Kimberley for Cape Schools week) that I forget just how incredibly beautiful our barren karoo landscape really is.
Pit stop as the sun starts to set
What the pit stop was for (you would have thought they could have walked
to the thirsty vegetation but they had no shoes on)
Sunset at Victoria West (all that was missing was a glass of perfectly
chilled Sauv Blanc)
We arrived safely and found our way in the dark. Dropped our stuff and the B&B and headed off to the "The Half". We had been there last year when a whole bunch of us went up by train to watch Matt play. It is a great pub which has something to offer everyone - a man sized pub in the front with great old pictures and memorabilia, a leather clad lounge with enormous fireplace and formal tables and chairs in the middle and then, best of all is their outside area with marble tables, outdoor heaters, palm trees, live music and delicious pizza (a bit of a Forres vibe but fancier). This night however we headed for Annabel's - the more formal restaurant, also on the property. Matt says the steaks are the best in Kimberley (and who are we to argue?). Gareth and Nic were hungry honey badgers. They were into quantity and ordered T-bone steaks, Matt had the healthy option of a low GI pasta and I was told to try the "Black Beast". A 200g fillet with a flambe'd pepper crust. It was the best pepper steak I have ever tasted. I ended up having to grudgingly share 3 slivers of my perfect dish to the honey badgers and had 3 sets of hungry eyes watching my every mouthful. When we returned to Cape Town we were going to see if we could attempt the perfect pepper crust. The very dapper 83 year old maitre'd in a dress suit and smelling very strongly of Old Spice was charming to a fault but not willing to share the secret recipe.
"The Halfway House and Annabel's"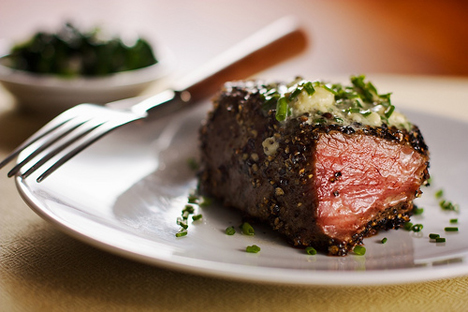 "Black Beast"
Matthew lives with Wesley who is a pretty neat chef in his spare time. They watch Master Chef Australia (as I do) and they renamed Nic - Aaron. Nic has the glasses too but I don't seem to have a picture of him wearing them and the beanie together.
Aaron and Nic
Nic as Aaron in Matthew's stunning kitchen
Boys at Big Hole
Back to Cape Town on Sunday night to find the meat I had ordered earlier the previous week in the fridge. It was vacuumed packed but needed to be cooked. Gareth and Nic arrived for supper on Monday night and we turned my kitchen into Master Chef South Africa. The steak was a wonderful whole piece of rib-eye. Got Gareth to crush the black peppercorns which we mixed with ground almonds (I was not sure if they used breadcrumbs but it had a nutty flavour). Nic seared the steaks in my griddle pan for about 3 minutes on each side. I let the steaks rest for about 5 minutes and then dipped them into raw egg whites (something I remembered from Standard 6 Domestic Science with Miss Mireliesse at
that school
on the Main Road). We then dipped and coated the steaks in the ground pepper and almond mixture. Then into my ordinary frying pan with heated butter and fried them for another 4 minutes on each side (they were pretty thick and we wanted them rare/medium). Then the fun began. Out came the Klippies (good South African brandy) which I threw into the pan. Nic lit the pan and we had serious flambe nearly touching the ceiling and which almost removed the carefully cultivated moustache he is now sporting.
Michael had kindly gone off to Chippies in Rondebosch for chips (life is definitely too short to peel, cut and fry chips when Chippies is just around the corner and do it so well) and together with fried eggs we had a delicious supper. The pepper crust was perfect and had it been fillet it would have been on a par with Annabel's. The rib-eye is very tasty but not as melt-in-the-mouth as fillet.
Matthew left yesterday to go back to Kimberley. I could not resist taking a picture of him leaving for the airport wearing one of Nic's beanies (lovingly knitted by Nanna) and which he was stealing. Busted Matt!! (only because you have given him such a hard time about Aaron and beanies).