a couple of months back i read the novel by thea hughes. it was the story of ana who at the age of 30 walks across spain on the 750 km pilgrimage "camino de santiago" from st jean pied de port on the french side of the pyrenees to the city of santiago in spain. she is on a walk to help herself heal from a past of abuse and rejection. she meets and older man who had recently been diagnosed with alzheimer's. they form an amazing friendship. very sweet - she who is trying to forget her past and he who is trying to remember. it is a lovely story set in this beautiful countryside of spain. some of the history of the trail is explained and you feel the physical and emotional suffering that the characters go through. shirley mclaine also wrote a book about her trail in 1996.
i have read a bit more about the various camino pilgrimages you can do. most of them pretty heavy stuff but the whole ethos of it fascinates me. the modern pilgrimages are now a lot less about religion and more about peace, having time on your own to think and undertaking the physical challenge of the walk. you get a passport which is stamped at each spot along the route.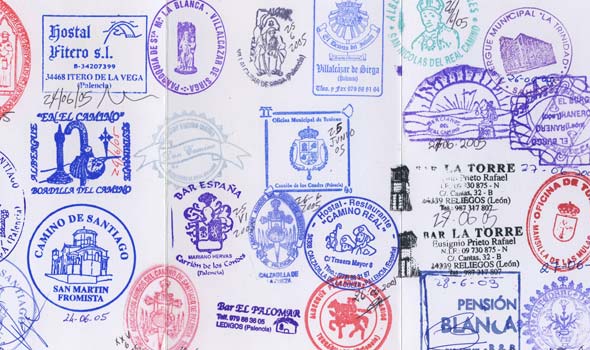 the accommodation is budget hostels and over 100 000 people do the walk every year. you can walk at your own pace, with others or on your own and it is safe. the full pilgrimage takes about 30 days.
late last night i read in the new vanity fair a bit about martin sheen's new movie which has recently been released. it is called "the way". about a father travelling to spain to find out more about his son's death while on the camino de santiago. take a look at the trailer
the following comes from the movie's
website
.
In the film, a father unfortunately comes to understand his son's life through his death and along the road finds himself as well. The main protagonist of the film is the conflict we each have within ourselves of choosing a life versus living a life. This greater question of finding oneself is a matter of acceptance and choice. Given the circumstances of our lives, how do we understand ourselves, our family and our friends, and the choices we make? Do we blindly go through life unaware of our actions and how they affect not only ourselves but others, as well? What role does our community, friendships and faith play in our decisions?

The Camino, by its nature, serves as the ultimate metaphor for life. Footsteps along a well-trodden path may be our guide, but do not shield us from the questions that most of our busy everyday lives prevent us at times from fully recognizing. The road offers very little to hide behind. The process of life is life along whichever road, path, Camino, or Way we find ourselves on. Our humanity toward ourselves and others, our history and our future is what defines us. Take the journey of life. Buen Camino"
i can't wait for the movie. looks like it is only being released towards the end of the year. it has an amazing soundtrack as well
http://www.we7.com/#/album/Tyler-Bates/The-Way-Original-Motion-Soundtrack
james taylor, alanis morisette, david gray and tyler bates's musical score is awesome. had it on all day at the office (bonus of unlimited bandwidth)
also of interest is one of the many travel websites which gives more info and pictures
http://www.macsadventure.com/Camino-de-Santiago-full/overview.php
so anyone for a 30 day walk?