winner number 1:-
nicky deacon's sweet potato and ginger soup:-
1 bunch spring onions - chopped
2T sunflower oil
3t fresh ginger - peeled and chopped
1 fresh chilli - chopped
1kg sweet potato - peeled and cubed
3 cups chicken stock
1 can coconut milk
coriander leaves
salt and pepper
gently soften onion and chilli in oil, add sweet potato and season a bit.
leave for about 5 minutes then add stock and coconut milk
simmer for 20/30 minutes until tender.
puree and check taste
serve with coriander
i bought those sweet potatoes at woolworths and it looks more like butternut soup when cooked. not so easy to find the light yellow sweet potatoes anymore and i think their flavour is better. my soup never quite matches nicky's special blend. my friend in new zealand, cheryl was visiting me and the night before nicky left for her holiday in namibia she brought around a large pot of this special soup. it is still my favourite comfort food and, even the smell, brings back wonderful memories of her.
on the weekend we doubled the ingredients and made a really big pot which we had with ciabatta breads and a greek yogurt, chopped chilli and grated cucumber type of tsastiki (dalene got that recipe from her hairdresser - thanks abeda). the greek yogurt mix was divine on the crispy warm ciabatta breads which we ate with the soup.
winner number 2:-
this not because i drank it either. i just thought this label was brilliant:-
if it is too small to read, it says:-
the siren
shiraz / mourvedre / viognier
soft, ripe & juicey. unpretentious
"this wine is a manifestation of me
if you don't like it.....enjoy your beer"
me, myself, the guy that made this wine
gareth had found this wine at the bottle store on the corner of raapenberg road in mowbray for R19 a bottle. a really nice, lightish red wine. if i did not love my ice cold white so much i may have been tempted to have a glass (or two). gareth and nic told me a bit more about it and that the wine started off as a blog (a bit like my book / blog vibe, but not really). free bottles of wine were given away to wine bloggers. this was about 7 years ago.  their website needs more investigating when i have some time so not 100% sure of all the details and whether there is much of the wine available in cape town. this is the site:-
i also found this story:-
"The first 500 people, aged 18 or over, who send me a pic of themselves in Tesco's, holding a bottle of Stormhoek, will receive a £5.00 Tesco voucher from us, to cover the cost of the wine [N.B. These vouchers are not sponsored by Tesco's. We're covering the cost out of our own pocket]. And hey, you don't even have to buy the wine if you don't feel like it. You can spend the voucher on whatever you want. Nor do you have to blog it. Frankly, I'm more interested in the photos.
And to make it a bit more interesting, we'll post our favorite pics on the
Stormhoek blog
, and each week we'll send a complimentary case of wine to the person who took our favorite picture that week.
[AFTERTHOUGHT:] To get the ball rolling, I'll send a case of Stormhoek [6 bottles] to the first six people who send in a photo [on condition that you're over 18 years old, of course]. Again, you don't even have to buy the wine, nor do you have to blog it. [CAVEAT:] Though this promotion is in most Tesco stores, it isn't in all of them. If your local Tesco doesn't carry Stormhoek, apologies in advance. Drop me an e-mail if this happens and I'll see what I can do. Thanks. [P.S. For all you Wine Geeks:] The Stormhoek Pinotage that won the
"Best Pinotage in The World"
award last year is part of the promotion. Rock on.
This might turn out to be quite groovy, it might not. Whatever. Fail fast, fail often etc."
nice marketing.......i like it (a lot) and may just venture out to find some of their white wines to try. do you know the wine - ellen? hope? judy?? nix???? (names in no particular order, lest you think it is "ability to drink white wine" order)
winner number 3:-
caroline's cheese bread. easy and divine and now i know the ingredients (because i did the shopping)!! i am not a great baker so she is in no danger of me taking over the role that she has made her own. i only hope i am not going to be in trouble for sharing the information but as kelly loves to say "sharing is caring":-
500 grams self raising flour
500 ml buttermilk
1 packet
brown onion soup
1 cup cheese, grated
little bit of salt (brown onion soup is fairly salty)
heat oven to 190 deg. C
mix flour, butter and soup powder together by hand
mix in some of the grated cheese
place mixture in greased loaf tin (makes 2 medium sized loaves)
sprinkle grated cheese over batter (as much as you like)
bake for 45 minutes in pre-heated oven
get creative too:
add a tin of sweetcorn, some pepperdews or bacon (or both), garlic and parsley and other interesting things to the batter before putting it into the loaf tin. the sky is the limit with this basic recipe and you can change it up any way your heart desires!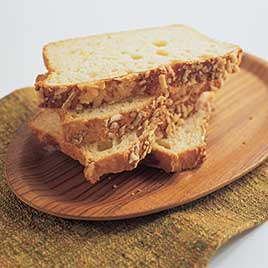 makes great toast too!!
more to come.....